MATKA ENSEMBLE CONCERT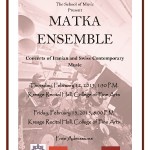 MATKA ENSEMBLE
Founded in Geneva in 2012, Matka is a contemporary music ensemble which offers more than
contemporary music. Its dynamic members hail from every profession in the musical world and
have a passion for organising innovative artistic events.
ECLECTISM
Matka's members interact as a young, friendly group, while simultaneously aiming at international
visibility and recognition. They combine premieres of recent artistic creations with works from the
twentieth-century repertoire, oscillating between parallels and contrasts, putting their artistic and
technical mastery to the service of new points of view on the plurality of musical styles typical of
our time.
OPENNESS
As a contemporary music ensemble, Matka offers a programme of acoustic, acousmatic and mixed
works, while always endeavouring to outpass the divisions between artistic genres, technologies and
musical traditions. It reflects the cultural diversity of Geneva, creating fertile conditions for thought,
encounters and debates.
SHARING
Matka's projects only have a meaning if they can be shared.
The group makes its performances accessible to everyone by choosing original venues and
organising pre-concert presentations as well as educative projects. It seeks to open up areas which
are all too often perceived as elitist and to communicate with its public in a warm-hearted
atmosphere, both during the concert and after, when drinks and humus are served.